Coming September 16th. You pre-order on Kindle right here (paperback and hardcover still to come).

Want to go on a Western Adventure?
Join three highly talented authors on a thrilling journey into the past that's perfect for readers of Western thrillers, horror, mystery, fantasy, and of course the supernatural.
"The three novellas in West of Hell have all the rustic, gritty, and gory ingredients to make this weird western anthology an enjoyable and memorable read. James A Moore's inclusion of a Jonathan Crowley tale alone enshrines West of Hell as an indispensable addition to the weird western canon."—Tony Tremblay, Stoker-nominated author of The Moore House and Do Not Weep For Me
"A delightful and disquieting triptych of Weird Western sorcery from three titanic talents. Moore, Wood, and Burke have produced something very special here you won't want to miss."—Ed Kurtz, author of the Boon trilogy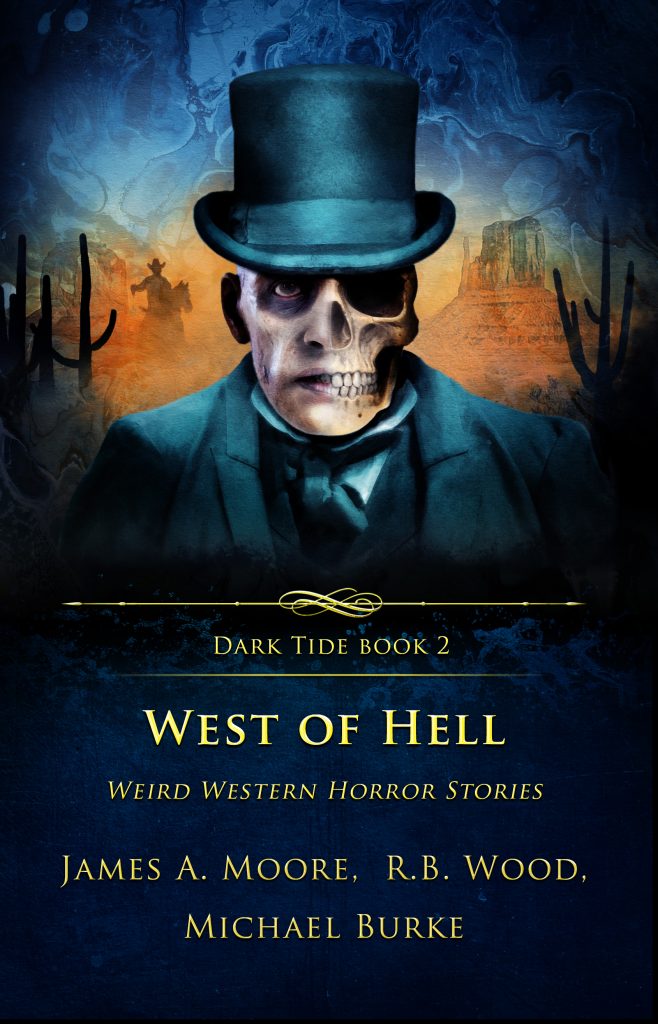 DEAD MEN by James A. Moore: And the Dead shall rise. Jonathan Crowley is having a problem with dead men. They just keep getting back on their feet. From the ghost dancers at a strange burial site to the corpse of a man he literally just killed, the dead refuse to lay down and die, and now it's up to Crowley and his traveling companion Lucas Slate to try to figure out why the dead are restless and determined to kill whatever crosses their paths.

THE TRICKSTER OF PARADISE by R.B. Wood: Never trust a cave painting with an agenda.
In the old west, the people of Paradise live in harmony with the local Sioux tribe until the U. S. Army arrives with false accusations and their deeply rooted prejudices. While the strange newcomer known as "Mortimer" watches; a sixteen year old boy and an ancient legend must come together to fight the invaders, save the town, and win the day. Can the desires of an ancient legend and the wishes of a young man survive the encounter with Death watching their every move?

LAST SUNSET OF A DYING AGE by Michael Burke: Ibuki Shibuya is a disgraced samurai, a fugitive from the vengeance of his former master. His flight leads him to the American Southwest where he discovers a mutilated body in the Arizona desert. He eventually finds himself in Copper City, a frontier town plagued by a series of grisly murders.
A motley cast of characters populate the town and Ibuki becomes embroiled in affairs both mundane and extraordinary as he resolves to assist the sheriff in solving the strange murders. Perhaps he will even meet the honorable end he seeks in doing so. All the while, a strange man, dressed in black, who knows more than he says, lurks outside of Copper City.
Events come to a head when the truth is laid bare. Ibuki, along with both friends and foes, learns that not all remnants of a dying age have given way to progress.