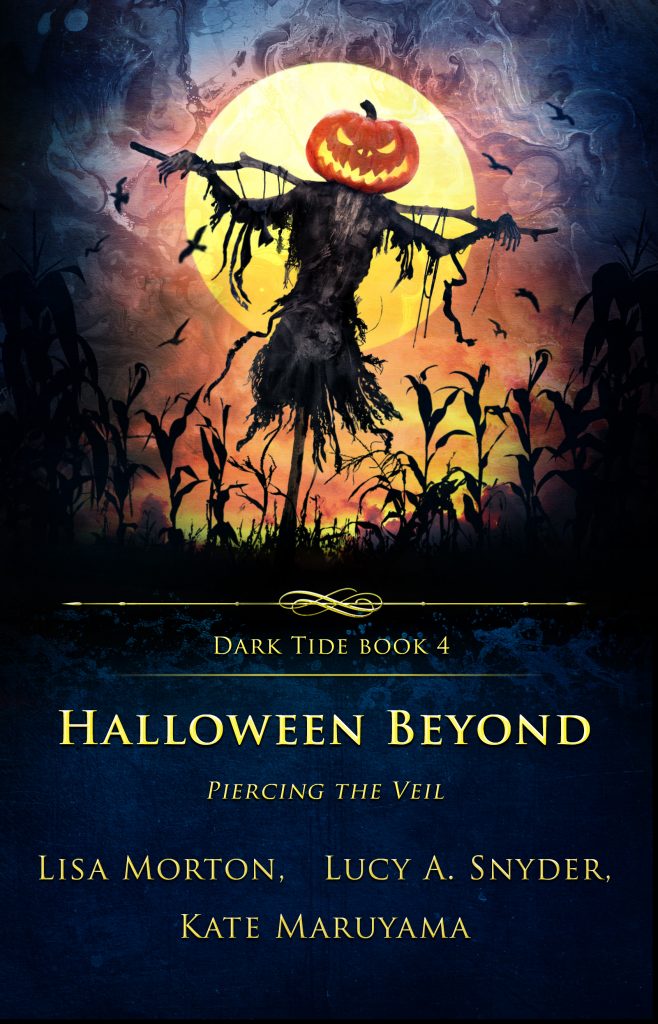 When the Halloween Beyond stores appear across America, they intertwine the lives of three visitors in a web of mystery and magic.
THE TALKING-BOARD by Lisa Morton: Can ancient magic exist in the modern world?
When Kayla's sister Hailey went missing in the nearby Ghost Woods on Halloween night, the last person to see her was the solitary, elderly Brigid. Kayla, who has long suspected Brigid of being involved with Hailey's disappearance, dreads the first anniversary of her sister's vanishing even as her best friend Sophie urges her to put the past behind her.
Halloween nears and Kayla pays a visit to the pop-up Halloween Beyond store, where an enigmatic clerk named Maeve convinces her to buy a talking-board. Kayla begins receiving messages which claim to be from Hailey, but is it actually something more sinister calling out from beyond the veil?
Brigid—who may be a witch—offers to lead Kayla into the Ghost Woods on Halloween in search of answers. Kayla discovers dark truths about herself as she and Brigid confront the terrifying supernatural forces that claimed Hailey.
NEW BLOOD by Lucy A. Snyder: Maddie is keen for Halloween, but when she moves to a strange coastal town, a Devils' Night party forces her to face eldritch dangers that threaten her entire family.
A GENTLEMAN'S SUIT by Kate Maruyama: Halloween Beyond is magic. The store's inscrutable clerk finds Lex exactly the right costume which somehow makes people see the nonbinary Lex for who they really are.
It's Lex's last Halloween at home before college, and it had better be good. When Lex's father, Beto, known locally as the King of Halloween adds an enormous animatronic Death on a boat to the collection in his elaborate front yard haunt, Halloween night takes a deadly turn.
Lex is having trouble letting go of old friendships, of home, of Halloween itself, but they now face the hardest kind of letting go.
Find it on Kindle, paperback, and hardcover on Amazon.
For more on the series click here.
Crystal Lake's Dark Tide series will continue soon with more tales of Mystery Thrillers and Horror Books, including themes of Weird Western, Sherlock Holmes, Grief Horror, Body Horror, Mystery fiction, Travel Horror, Deadly Duos, and Psychological Thriller books.