Kindle pre-order now available right here (paperback and hardcover to come)
The third terrifying volume in the award-winning anthology series of original queer horror.
Like the final girl in a slasher film, the LGBTQIA community knows first-hand what it's like to fight for its survival. Beaten and bloodied after an extended chase scene through modern-day politics and the courts, we think we've triumphed and conquered our oppressors. We breathe a little easier knowing our rainbow is ascending in the distance. But—like the indestructible slasher villain—our enemies rise up again and again, as if on a looping third-act jump scare. It's a seemingly never-ending return to battle as the pendulum of progress swings back.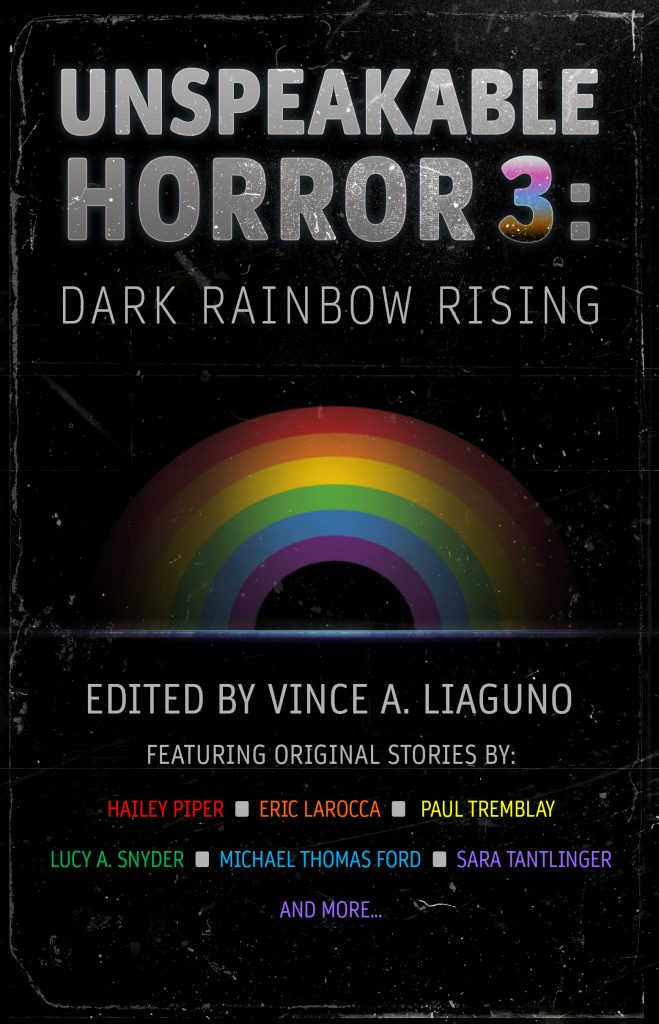 In this third volume of the award-winning anthology series, the darkest minds from both the LGBT+ and horror literary communities join forces to bring readers an all-new collection of terrifying tales from that line on the horizon where the dark rainbow rises.
Stories by Chad Helder, Hailey Piper, Mathew L. Reyes, A.P. Thayer, J. Daniel Stone, Yah Yah Scholfield, Oliver Nash, Holly Lyn Walrath, Paul Tremblay, Carmilla Voiez, James Cato, Lucy A. Snyder, Maxwell I. Gold, Zachary Rosenberg, Matthew Blain-Hartung, Maryse Meijer, Vincent Kovar, CG Inglis, Craig Laurance Gidney, Dan Coxon, Kaitlin Tremblay, Michael Thomas Ford, Craig Brownlie, Amanda M. Blake, Sara Tantlinger, and Eric LaRocca. Edited by Vince A. Liaguno.